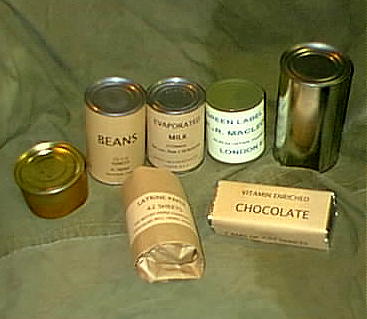 Welcome to the Next Generation!
Knacker Squaddies is proud to announce our new sales site: Vintage Ration Depot.

Featuring Reproduction Food Rations from World War 1, World War 2 for Germany, America, Great Britain, France, Australia and Russia. Fully edible, fresh and authentic!
We are coming to you with a new web site, old ration favourites, some new squaddies and even George, a.k.a. 'Grandarse' who is the founder of the Knacker Squaddies ration sites almost 20 years ago, who had thought he could sneak off into retirement.

Our ration offerings will initially be some basic 24 Hour Ration, Compo Ration and Specialist Ration components for our British troopers, along with some U.S. GI Ration goodies. For our German Landser, the starting line-up will include the Eiserne Portion and specialist rations for Fallschirmtruppen.

As the gears of our production come up to speed like a well-trained Vickers crew, we will be adding many old favourites, such as SS, Italian and Japanese Rations for the Axis and Canadian and Australian rations for the Allies.

World War I rations should be available also in the foreseeable future, as well as some real reenactment game changers, such as 100% authentic and edible D-Ration bars!

Please feel free to let us know what sort of rations you are looking for via the comment section below-That will keep Grandarse from getting bored inspecting the war factories!